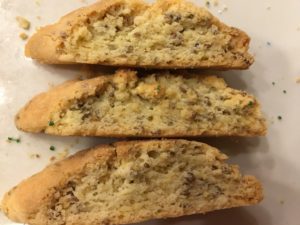 Overwhelmed by work & cloudiness?  Here's a quick & wholesome fix
Whether you go with la Befana's best Befanini or any other of these delicious cookie recipes, all  are sure to make you feel yummy again — without going to a lot of trouble.
Nonno's Biscotti
These cookies are delicious dunked in a morning cappuccino or in red wine…
Ingredients
300 grams/2 cups Flour
100 grams/1/4 cup plus 1 Tablespoon Sugar
A generous pinch of salt
20 gr/1 teaspoon Baking powder
30 gr/3 Tablespoons Anise seeds
2.46 mL/½ teaspoon Anise flavoring
5 mL/1 teaspoon of Vanilla extract
113.4 gr/1 stick of softened Butter
3 large Eggs
Optional, quantities to taste:
Almonds
Walnuts
Preheat the oven to 350 degrees
Combine the flour, sugar and anise.
Cut in the butter using the Mixmaster or pulsing on a Cuisinart until the butter is the size of peas.
In a separate bowl, beat the eggs, anise flavoring, and vanilla extract until combined.
Slowly add the egg mixture to the flour mixture in the Mixmaster with a pastry hook.
Or, if you're using the Cuisinart, pulse it in thru the feeder tube.
Taste the dough to see if it needs more anise and/or vanilla, and add these as needed.
If you want to include raisins or nuts work them in with the Mixmaster or by hand at this time. Don't use the Cuisinart to mix in these ingredients because it will pulverize them 🙁
When the dough is combined, put it onto a floured surface and shape it into cylinders that are about 2 inches in diameter and about two inches shorter than your cookie sheet. Add a little flour if the dough is too sticky — it should be easy to work with and not fall apart.
Space the cylinders of cookie dough about two inches apart because the dough will spread.
Bake until the dough is set and slightly golden, but not brown.
Remove the loaves from the oven but do not remove them from the cookie sheet.
While the loaves are still very warm, make cuts in each at a 45 degree angle, a little more than ½ an inch apart. If the dough crumbles, make the cuts further apart so that the cookie holds together.
After the cookies are cut, flip them over on their sides on the cookie sheet, not allowing any overlapping. Turn off the oven and return the cookies on the cookie sheet to the oven.
The biscotti (the name means twice-cooked) are ready when they are crisp throughout–probably in the amount of time it takes the oven to cool down.
Biscotti can keep for a very, very long time if you store them in an airtight container so they stay crisp and dry.
If you're craving the cookies la Befana brings, here is her own recipe:
I Befanini
Says la Befana…
"Good Evening kind folk
I've brought you little Befana cookies
Just the recipe to keep in mind
For those wonderful little kids.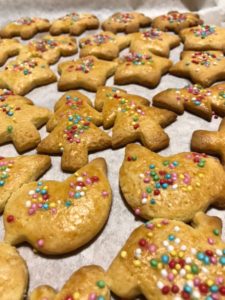 In a well of eight cups (one kilo) of flour
One and ½ cups each of butter and sugar are needed
Then two eggs
And one orange, juiced, won't hurt either.
A little grated lemon rind
Will give the cookies great aroma and a lot of flavor
Then add a ½ teaspoon baking soda and a ½ teaspoon cream of tartar
And your dough is ready.
With cookie cutters and a rolling pin
You give life to the little Befana cookies
And just to make everything more beautiful,
Don't forget the sprinkles.
It's a very old recipe
From Lucchesia
That shouldn't wear you out
If you make them with joy."
— From "La Befana Raccontata" by Lucia Pardini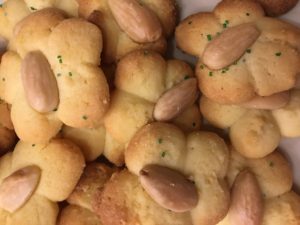 Spritz 
Buttery, fragile and delicious creations in virtually any shape you'd like…
Preheat oven to 400 F.
Mix together thoroughly:
1 cup soft Butter
⅔ cup sugar
3 egg yolks
1 teaspoon almond extract
Work in slowly:
2 ½ cups sifted flour
Force the dough through a cooky press onto an ungreased baking sheet in rosettes, or other desired shapes.  
Consider decorating with blanched almonds, sprinkles, or candied fruit.
Bake 7-10 minutes until set but not brown.